HOME PAGE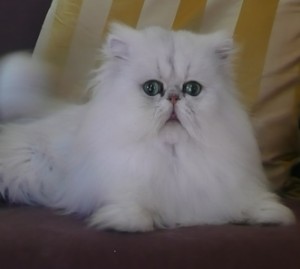 LAST UPDATED 2ND MARCH 2018
Welcome to my website. My name is Gloria Neale, I have been breeding Chinchilla and Colourpoint Persians as a hobby since 1985, enjoying the beauty and company of the cats and having success with them on the show bench, I have continued to breed for type and temperament.
My home and cattery are situated in the small village of Three Oaks, on the outskirts of Hastings on the South Coast where my cats' welfare is my priority and they are able to enjoy an acre of garden for their recreation. My daughter Emma has been involved with the cats and kittens under her prefix 'Confeticat' which is part of the Cushka cattery. Between myself, Emma and my other daughter Amy, the cats are ensured of the up most love and attention that results in the sweet loving temperament for which I am proud to be reputed.
As well as breeding and showing I am privileged to judge these wonderful breeds as a full judge on the Tipped,  Colourpoint , Tabby and Self coloured persian lists . All of my kittens are born in my bedroom and brought up in the house,  in a loving environment. They are litter trained from an early age and even enjoy the care and company of our two dogs making them practically bomb proof!!! As much as I enjoy judging, my cats are and always will be what I love most about my hobby. I am proud to be able to show my cats and kittens on the show bench as well as on this website. I welcome any phone calls or enquiries.